SHOWINGS FOR FALL 2018 GOING ON NOW!!


Tallard Apartments LLC is a family owned business specializing in leasing UW Madison Campus Area Apartments and houses. Owner managed by local Madison families for over 30 years, Tallard Apartments takes a hands on approach maintaining their properties. Currently offering over 100 different locations near UW Madison, to include Camp Randall Area, University Heights, Kohl Center, Vilas,  and the Edgewood College area.
Although we are known as "Tallard Apartments", we specialize in large group rentals, offering many very large houses. A larger group of tenants in a single unit typically results in rent savings on a per person basis when compared to a smaller group of tenants in a smaller unit.
Unlike most of the high rise and multi-unit apartment buildings, many of our properties have porches, balconies, yards, decks, basements, Rec Rooms and sometimes usable attics.
There is never a need to wait for an elevator, especially during busy times of day, or during move in move out time!!! We also respect your privacy and do not use cameras to monitor you 24 hours a day.
Tallard Apartments does not have an "August 10th-14th move-out date." Unlike most other campus area property managers our lease starts and ends on August 15th.  After all you are paying for a full year of rent! You and your belongings will not be left homeless for 1, to as much as 4 days while you sleep at a hotel, your car, a sofa on the curb, or at a friend's place. Our policy of having an August 15th move in and move out date has been popular with our tenants.
Our office is conveniently located at the corner of Regent and Madison Streets. We offer 24 HR service with an experienced full time staff for your maintenance requests. We work hard to meet and exceed your expectations.
We have several tenants every year that move from one property of ours to another. We also have many tenants that have siblings or friends that lease their previous property after they move out.
Tallard Apartments holds a tenant appreciation party in May of every year where nearly 400 meals are served to our tenants, and sometimes a few of their friends.
Tallard Apartments also offers off street and garage parking at locations near UW Madison campus to include downtown, The Kohl Center area, and Near Edgewood College. Call us, we are ready to help you with your apartment and parking needs!
Thank you for visiting our website!
Tallard Testimonial Slideshow….
"I would like to thank you for the job that you have done on our house.  Especially your punctuality to our request for service. Your staff has been most polite and helpful. Jason, is extremely nice and has been very accommodating of our schedules. He has been especially considerate of Katie's unique position of not having a place to unpack her belongings.  Your other staff members have also been outstanding"
"Recently, we had our kitchen remodeled.  I would like to commend the work of the Tallard guys.  Everything was done in a very timely matter, and we appreciate their work to make sure we weren't displaced from our kitchen for long.  They were here everyday very promptly and determined to get things done efficiently.  We are impressed with the work overall,  I just wanted to express our gratitude"
"Chad from Maintenance did a wonderful job today! I would like to bring to your attention how timely and professional his work was, He is a valuable employee whom we look forward to helping us maintain our new home! – Send him our thanks once again!"
Thank you so much for the repairs and additions you made to the house!
Dave did a great job. He also repaired a few other things that needed fixing.
He really went above our expectations!
 "Doug did a fantastic job with maintenance in our building, we were all very pleased with the speed of his work and his willingness to help. I also wanted to thank you for supplying us with a comfortable environment to live in.  Everything so far has been very much appreciated!"
Thanks,
"We just wanted to let you guys know that Doug did a great job putting in our new kitchen. We love it! It feels like there is so much more space, there are a bunch more cupboards for storage too! It's awesome! We really appreciate the work you guys put into it….. Cheers!"
"We just wanted to let you know how much we appreciate the work Ned has done here.  He had done everything we have asked him, and more in a very friendly and timely manner.
Thank you!"
"Your 2 workers did a wonderful job remodeling our kitchen, bathroom, living space, and multiple other jobs around the house. I would like to thank you for getting this work done, and more importantly I would like to acknowledge the hard working employees you have. Ned & Chad were more than wonderful during the whole process. Their humorous attitudes, hard work ethic, and wonderful personalities always were a joy to come home to after class each day. They made my Tallard experience a good one.          Thanks again for making this remodel job happen! We love it!"
We appreciate the work that you have done on the house. The lights have been installed and the other problems were taken care of. Honestly, Tallard has been the best landlord any of us have ever had. Most other landlords treat college students like they don't matter. We appreciate everything Tallard does!
Thanks again!
"Living at Tallard Apartments has been amazing. This is my second year living at one of their properties and I have been more than satisfied with the quality of their apartments as well as the quality of their service. The property I am currently living in was recently renovated and they completed the renovations in time for move in while doing great work with artful attention to detail (think ghost wood accents, electric fireplaces, and bamboo breakfast bars). The people that work there are very responsive and understanding and I have had no complaints to date. Thank you Tallard!"
Thanks again!
Genny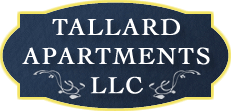 1445 Regent St Madison, WI 53711

tel: 608-250-0202 fax: 608-256-5906
Your route to a better
Madison house or apartment Rental near UW Campus and Edgewood College!